Jun 11, 2021
Media Library Folders Pro 7.0.0 now with Media Library Maintenance!
Time for a Spring Clean?
Great News!
We've just released Media Library Folders Pro 7.0.0 and it comes with some amazing new features, like the Media Library Maintenance & Bulk File Importer.
Clean up your Media Library with Media Library Maintenance
Is your media library cluttered? Does it have a bunch of uncatalogued files that affect your site performance? That's now a thing of the past! With Media Library Maintenance you can now easily inspect and remove those excess files.
Over time a site's media library often builds up a number of unneeded files, especially auto generated extra thumbnail file sizes that are no longer necessary due to theme or plugin changes or perhaps multiple thumbnail regenerations. Media Library Maintenance allows site administrators to find, view and remove or import these uncatalogued files.
Ready to try it out? Just click on the Media Library Maintenance menu option under Media Library Folders Pro and then click "Search for Uncatalogued Files". Media Library Maintenance will scan the media library folders and compile a list of each uncatalogued file it finds. The list will also include any folders found in the folder tree that don't exist on the server.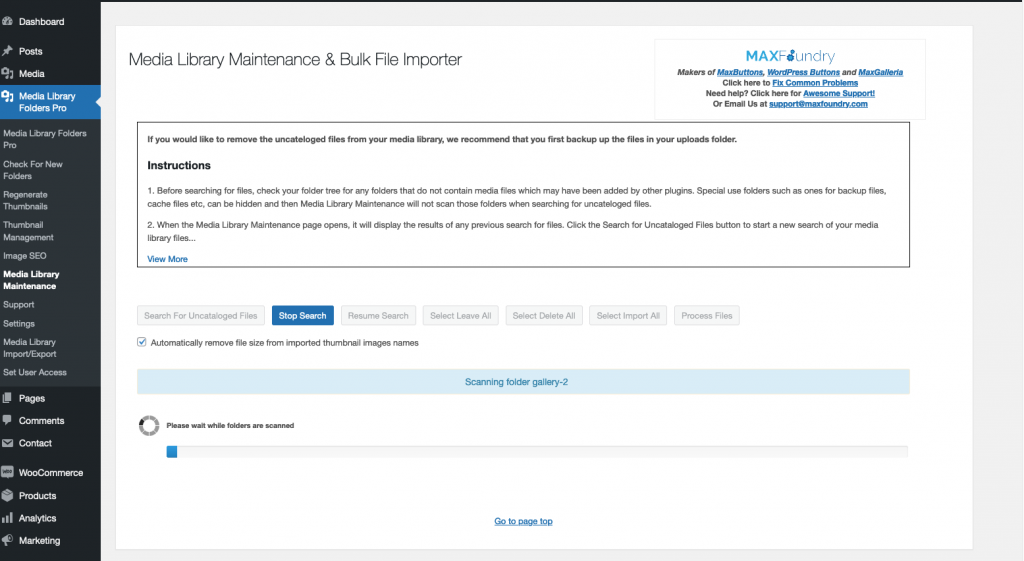 Once the search is complete the files and folders can be reviewed and any or all of the files can be marked as:
Leave (as they are)
Delete (remove from library)
Import (into the media library)
Some plugins add their own folders and files under the Upload folder which do not need to be included in the media library database. These folders can be removed from the media library by hiding them. To do this, right click on the folder to reveal a menu. Select the 'Hide this folder?' option and the folder and its contents will be removed from the media library and from showing up in the folder tree, but the folder and its files will remain on the server.
After reviewing the list and marking your files, click the Process Files button will Delete and/or Import the selected files. It's simple and fast!
NB: Before processing, make sure you have a backup of your entire media library, just in case there is a need to restore a particular image or file.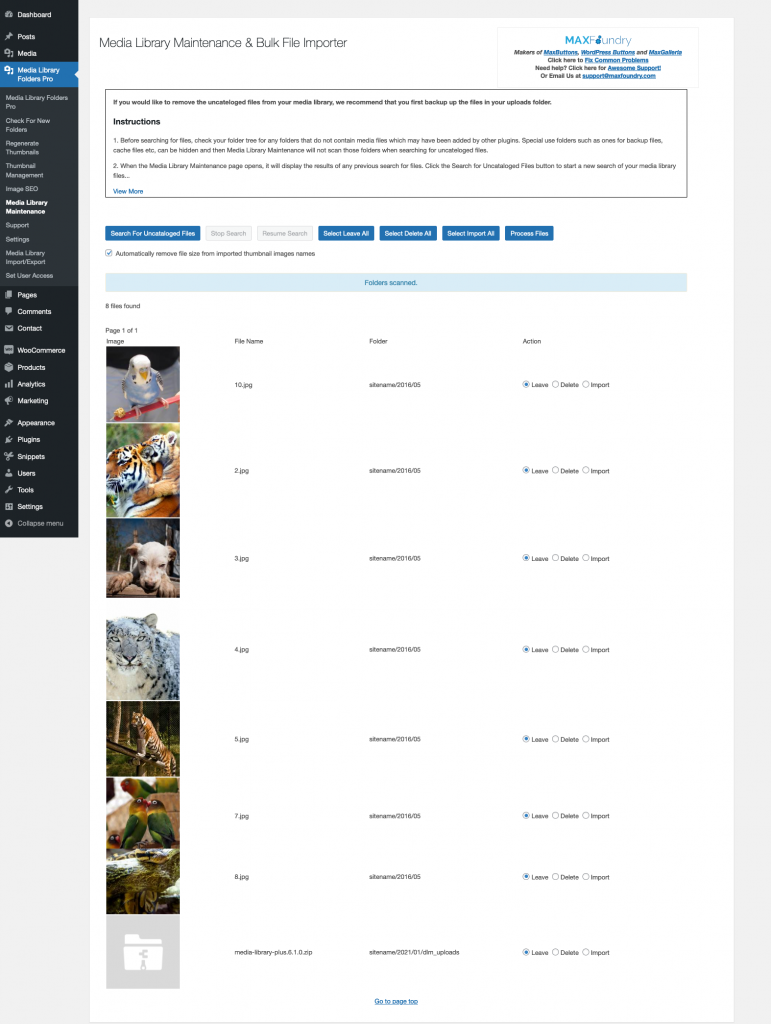 Bulk Import
In addition to cleaning your site's media library, Media Library Maintenance is the perfect tool for the bulk importation of new files. New files can be uploaded to new or existing folders under your Uploads folder. Then a search for uncatalogued files can be initiated which will add any new folders and then search all the folders for new files. When the search is complete, all the new files can be marked for import.
Other Updates
The latest version also includes:
A search button to go with the search field on the Media Library Folders Pro page.
The 'mlfp_content_folder' filter hook has been added to two additional sections of the plugin for those users who have renamed their 'wp-content' folder.
With Media Library Maintenance & Bulk File Import, Media Library Folders Pro continues to lead the way in making managing and organizing your media library resources, easier.
In other news: Our latest version of the WordPress Gallery MaxGalleria version 6.2.4, has been released to address an issue with downloading video thumbnail images from vimeo.com for customers using the MaxGalleria Vimeo plugin.
Update today and if you're not already a Pro license holder, save yourself a ton of time by grabbing a license.