Aug 04, 2020
Media Library Folders Pro 6 is here!
Now with Media Library Import / Export
Media Library Folders Pro Version 6 has just been released! And with it comes the ability to import and export directly from your dashboard. That's right! Managing your media libraries just got a whole lot simpler.
Exactly how functional is it?
You can export and download the contents of your media library from one WordPress site and then upload and import it into the media library of another WordPress site.
The import/export feature can also be used on multi-sites to site and can be used to import library
You can even import files to an AWS S3 bucket when connected to a site through Media Library Folders Pro S3.
It can even be used to simply create a back-up of your media library files.
How does it work?
Let's have a quick look at how to use Media Library Folders Pro Import / Export. First things first, head on over to your plugins page and update to the latest version. Or, if you haven't upgraded to Media Library Folders Pro yet, grab your license.
After updating, click on Media Library Import/Export in the Media Library Folders Pro submenu to access the import/export section. Click "Create New Backup" to generate a new backup of the site's media library.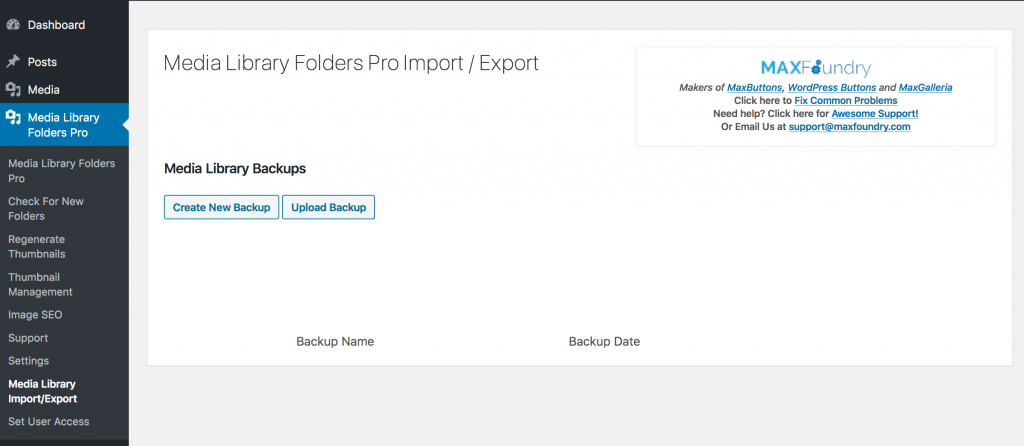 You'll be prompted to name your back-up (no need to add a file extension) and when you're done, just click OK or hit the Enter button.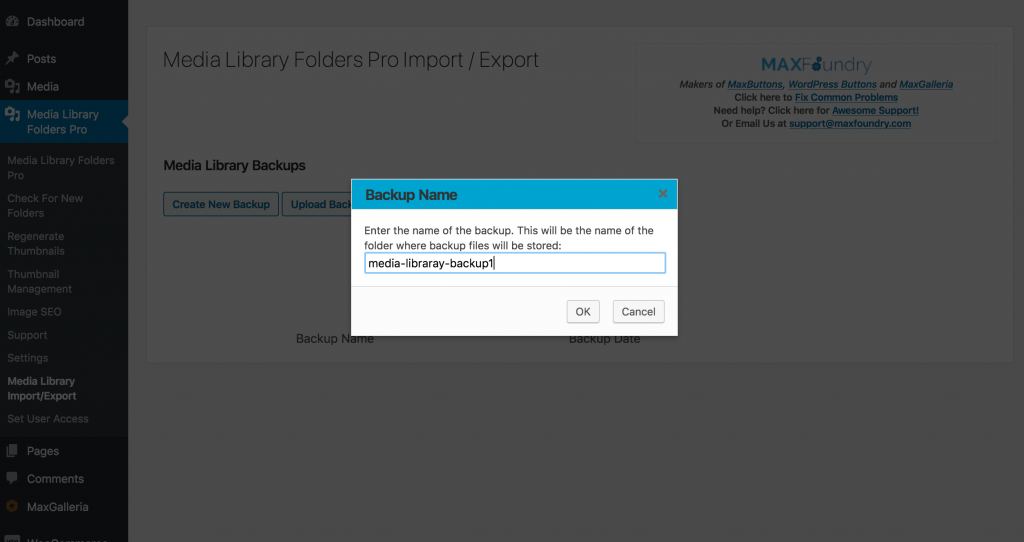 The backup files will be generated and once the page refreshes, it will show the new backup.
Please note: Backups do not include thumbnail images. These will be generated when the images are imported into the destination site. The only files and folders included in the backup will be those that are listed in the media library database.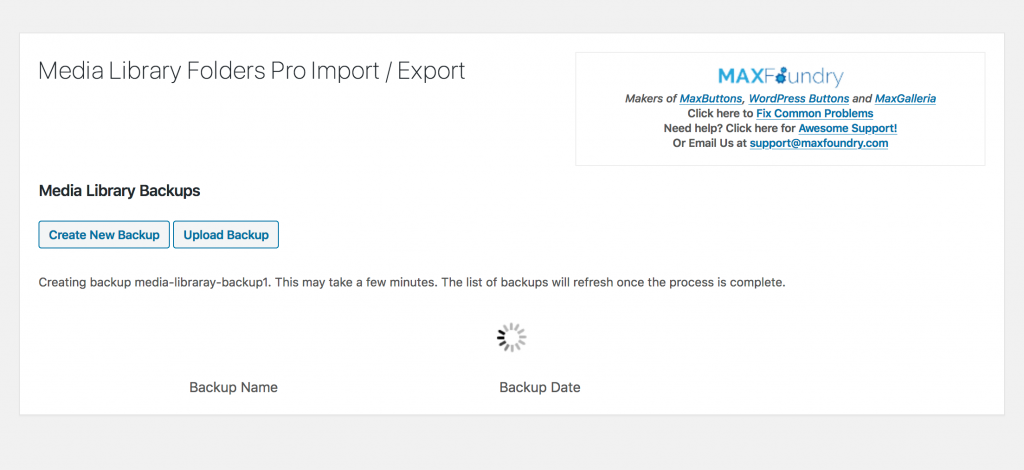 Your backup can now be downloaded simply by clicking "Download Backup". There is also a "Delete Backup" option if you don't need to or just prefer not to keep a copy on your site.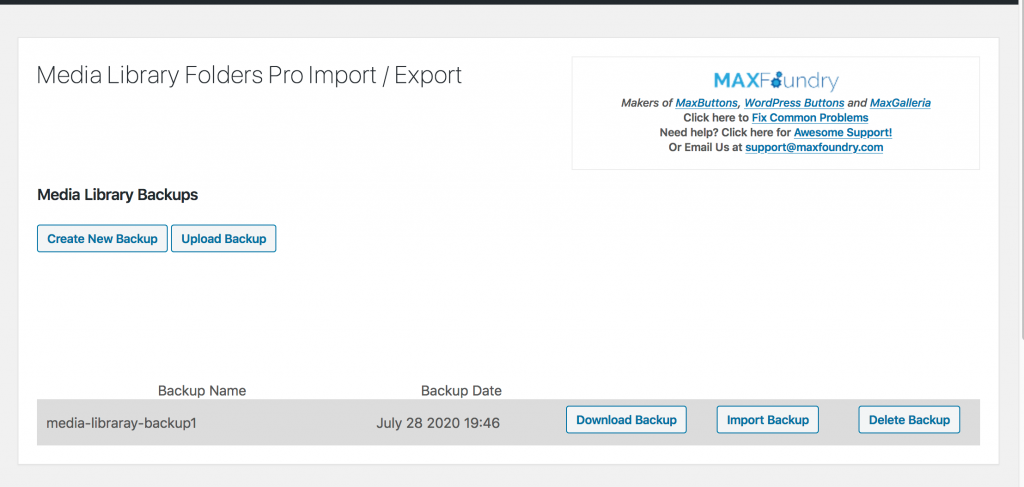 Once the file has been downloaded, you can then upload it on another site where Media Library Folders Pro version 6.0.0 has been installed. Simply go to Media Library Folders Pro Import / Export and click "Upload Backup". You will then be promoted to select a backup file by browsing to where it was saved on your computer. Once selected, click "Upload Backup File" in the dialog box to start the upload.
Backups of media libraries can be quite big so in an effort to avoid triggering a file upload limit error, MLFP will upload the backup file in small chunks.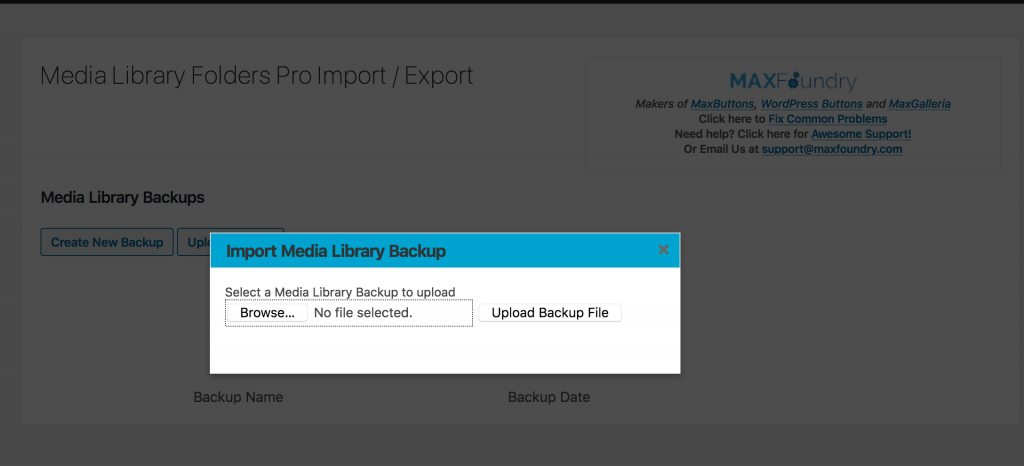 Once the file is finished uploading it will appear in the list of the backups and you can then click "Import Backup" to import the files and folders into the site's media library.

This will begin a two-part process. First up, folders are added to the site. If one of the imported folder names already exist, Media Library Folders Pro won't create a duplicate, instead it will use the existing folder during the file import.
Once the folders are created, then second part of the import process will begin, adding files to the appropriate folders. If a folder already contains a file with the same name as one being imported, it won't replace it, but instead will simply skip that file and continue importing.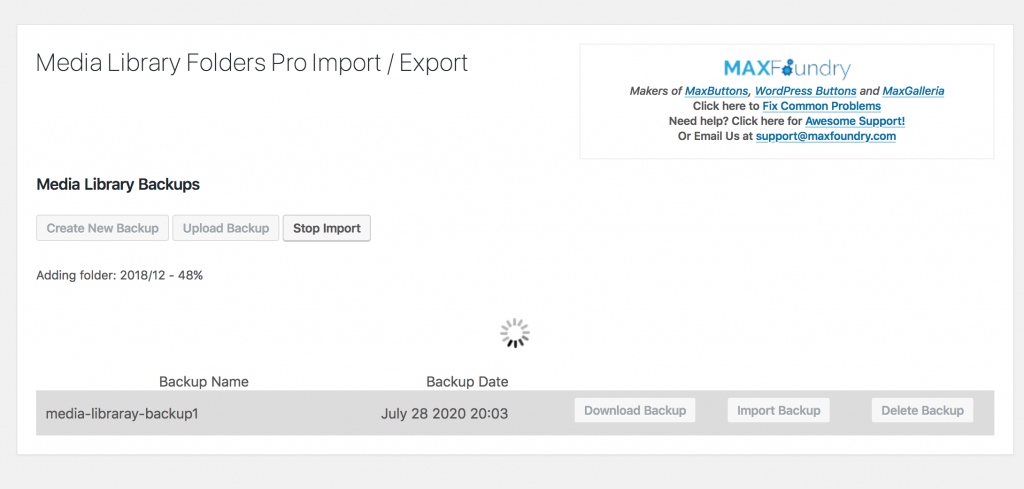 If for whatever reason, you need to abort the import, simply click "Stop Import" and the import process will be halted. You can restart the process at any time and any folders and files not already copied across will then be imported. The import will attempt a full import but since files are not overwritten, it will just skip past them.
Our free version also comes with a few technical fixes:
Fixed issue with media library search
Fixed issue with moving scaled images
Fixed issue with moving or copying scaled images.
Fixed issue with exif_read_data()
Modified image thumbnails HTML
Tested with WordPress 5.5.0
With Media Library Folders Pro's new Media Library Import / Export feature, all our users will reap the rewards of a wonderful new tool to help manage their media files.
Remember, to get instant access, update to Media Library Folders Pro version 6.0.0 today, and if you're still using the free version, there has never been a better time to upgrade to Media Library Folders Pro, so grab your license and enjoy!